Fundraising
With Soil³ Plant Sales
the soil³ Workshop Bundle
The Soil³ Workshop Bundle is a great group project or plant sale resource for clubs, schools, classrooms, sports, scouts, church/missionary, Master Gardeners, nonprofits, gardening groups, and more!
Soil³ Workshop Bundle gives an easy foundation for plant sale growing. Our bundle includes 1 cubic yard of our Soil³ humus compost and 50 5-gallon Root Pouches with handles. This fundraiser is unique because it provides the convenience of splitting up your fundraiser into different seasons or using it all at once – providing flexibility and ease with the convenience of grab-and-go Root Pouches at the time of your sale.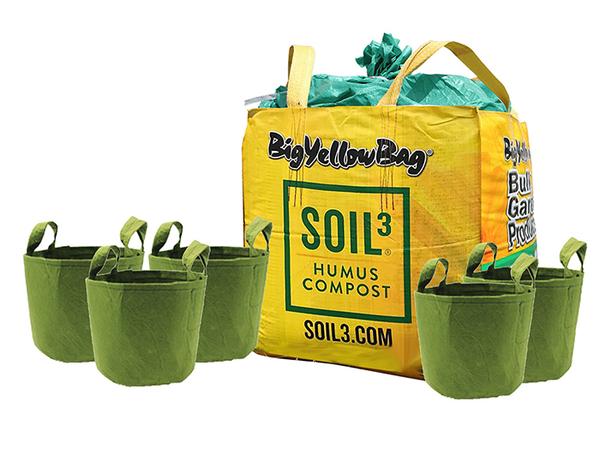 Each Soil³ Workshop Bundle Contains:

1 cubic yard BigYellowBag of Soil³ compost
50 five-gallon Root Pouches with handles
soil³ ag in the bag® classroom kit
Our Soil3 AG IN THE BAG Classroom Kit was created as a fun, educational tool for Agriculture lessons, but it also works great for fundraising! Similar to the Soil3 Workshop Bundle, this kit can be used to grow plants for a plant sale that is focused on smaller, younger plants. This is an easy kit for large and small Clubs, Schools, Classrooms, Sports, Scouts, Church/Missionary, Master Gardeners, Nonprofits and Gardening Groups.
Soil3 AG IN THE BAG Classroom Kit provides everything you need to grow 30 plants from seed. The small Root Pouches are easy to pick up at purchase and are absolutely adorable.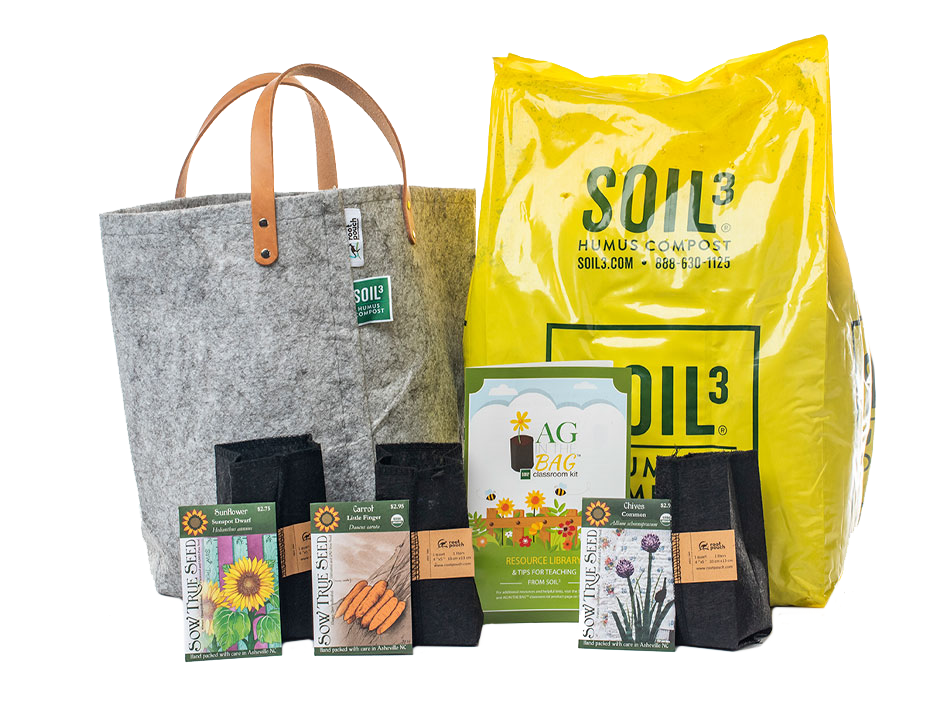 Soil3 AG IN THE BAG Classroom Kit Includes:

1 Mini Cube (cubic foot) Soil3 compost
30 quart size Root Pouches & 6" saucers
Packets of seasonal seed
Custom tote bag & teacher's resource booklet