Renovate and Improve your Lawn
TOPDRESSING FOR LAWNS
Topdress lawns with a thin layer of Soil3 humus compost to renovate and improve an existing residential or commercial lawn or sports field turfgrass. With this layer of Soil3 compost we are addressing the problems of thinning or unhealthy sod and/or providing the first application of fertilizer for the year.
Use compost topdressing to improve lawns and as a fertilizer application:
1 cubic yard of Soil3

will cover 1,000 sq. ft.
2 cubic yards will cover 2,000 sq. ft.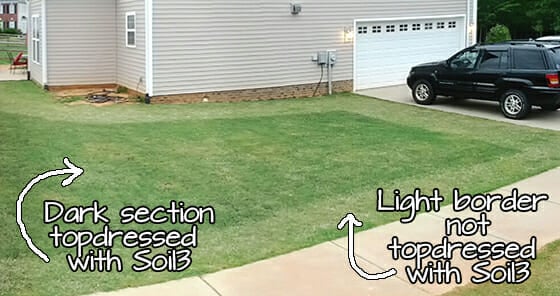 Only two weeks ago this homeowner topdressed with Soil3 compost for his first fertilizer application – the topdressed area is already dark green thanks to Nature's Nutrients inherent in Soil3.
A border around the lawn was kept untreated because that grass will be removed and a fence installed along the front and driveway with a flower border in the back; the untreated area is light green because it didn't receive any Soil3 (so no nutrients). This is just one example of why we strongly believe Soil3 is the best top dressing for lawns. The difference is night and day!
Soil3 as a grass topdressing provides these benefits:
Slow release of natural nutrients
Improved moisture retention
Improved soil structure
Beneficial soil microbes that reduce lawn diseases
Increased organic matter content
It's an OMRI Listed product labeled for use for certified organic gardening
Applications:
The care of all home lawns
Maintenance of lawngrass around business; from small sodded areas to large turf areas in strip malls, business parks, or industrial parks
Organic care of grassy city parks where people play and relax – peace of mind that comes from knowing organic lawncare is practiced!
All sports fields and high traffic turf
Instructions: Topdressing and aerating go hand-in-hand. And it's easy! We have a how-to video and written instructions on our How-to Topdress Lawns with Soil3 Compost page.

[Topdressing of turf also refers to a thick layer (no more than 1/2 of the blade height) of sand intended to improve the surface texture of the land under the turf, i.e., to even out bumps and depressions. The goal of topdressing like that is to create a smooth playing surface for sports fields and golf courses and is often necessary to smooth newly established home and commercial lawns. Please note this is not the type of topdressing we are referring to in this article, but we have a product called Level Mix, that was formulated for this purpose.]
Topdressing with Soil3 to heal a thin lawn:
Before (black soil is Soil3 topdressing) and After